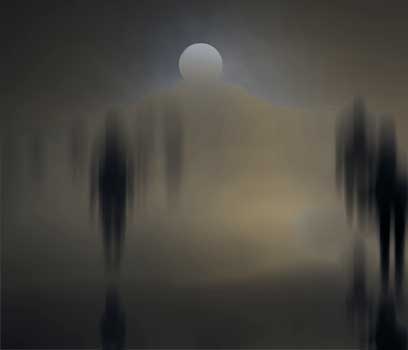 Experiencing the effects of the IMPACTS/SORROWS alters modality to great extent.  These experiences can force a person into whole new arrangements to deal with problems, and to exist in an uncomfortable or hostile environment.  Over time, a person's way of being is pushed beyond adjustment, and the basic identity is shifted.

When enduring the sorrows, and all forms of impact, readiness and the need for change can cause a constant emotional static - a need for over-awareness, extra reflection, and types of exhaustion occur.

We are not always able to get over-top our situation, when incongruous and reckless personalities take power over people.  When one person exerts leverage over another,  people endure great conflict, whether that conflict is outright or built up over time. Since we cannot always see the path of the future, people can walk into peril unknowingly, or under false pretenses, and end up surrounded by problems that alter the course of their life, and the state of their modality.

Enduring long term effects of disaster, or short term effects of despair are among the most tiresome, personality-affecting situations people face.
Life requires endurance through change - though among humankind, great suffering can be passed from one person to the next.  Those who dole out this suffering unknowingly will endure a unique and powerful, traumatic form of suffering when they open their eyes.
Those who are the afflicted will experience great hardships at the hands of others, often tangled in social structures riddled with injustice, as they exist on the receiving end of other's urge to dominate, use, abuse, control and manipulate.
The deep affects on modality are something to be addressed, and worked on.  The reason is that without such work, people become fractional beings, pushed onto thinner peninsula of modality, carved by the negative experiences and social structures cast around them.  In this section we will talk about adjusting oneself in the endurance of traumatic circumstances, in the struggle with afflicting, negligent personalities.
This section addresses how we adjust our modality both directly, and also incidentally, as formed by environmental circumstances without our actual desire, and sometimes, against our own wishes.

REFLECTION-BASED CHARACTER ADJUSTMENT MODES
WAYS IN WHICH THE PERSONA ABSORBS AND ADJUSTS TO WITNESSED EFFECTS
As modalities shift to meet circumstance, or as we adjust modality to serve our own purposes or desires - we become new arrangments, logic trains, and emotive platforms actively.  Those arrangements are witnessed in the world, or created in ourselves.  A rough estimate of how we create modality platforms based on experience are found in the next 7 "Reflection-Based Character Adjustment Modes":
In base, rudimentary terms - most all character anomalies are geared to get what one wants, senses as need, or manufactured as desired outcomes or rights. While all beings do have needs and rights, extreme uses of manipulation and adjustment exist throughout the world. This generally involves manipulating the nature and rate of exchange between one person and another – it is the status quo of "imposing one's will on another" through avoidance or claim.







RECOGNIZING PAST AFFLICTIONS - THE EFFECTS OF CONTROL DRAMAS
UNDERSTANDING STRUCTURES AND THE EFFECTS OF LOWER CONSCIOUSNESS
The very nature of our personas is often built upon what we feel can survive or succeed in the world around us.  Perceptions based on that world engage our senses and derive emotional chains that enact to create who we are.  What we do not know is how those effects play out on subtle levels, unless we pay attention.  The human Relative Modality system is complex, yet limited in features.  Our grip of self-understanding through time changes.  We come in touch with our innermost drives, change, then lost grasp of our actual intentions.  This happens on levels we cannot always be aware of.
However, in terms of negotiation of self - we understand qualities quite simply, if they are laid out in front of us.
In order to make desired adjustments, or to crack limitations set upon us through worldly adjustment - it become necessary to look at the forces that create us.
The human being was manifest to create ample conditions for survival.  The rudimentary functions often wrapped around people through social structures that are not optimal.  We experience bad interactions, bad paradigms, and bad people.  Our reach for higher consciousness is sabotaged by those who seek to manipulate people for their own benefit or entertainment.  We must look at human perception of threat and manipulation - which houses a substantial part of our defense mechanisms that can serve to craft us into fractional modalities.
FUNDEMENTAL ASSETS IN THE CREATION OF SUFFERING
NO DESIRE FOR BALANCED EXCHANGE + LACK OF SELF-REFLECTION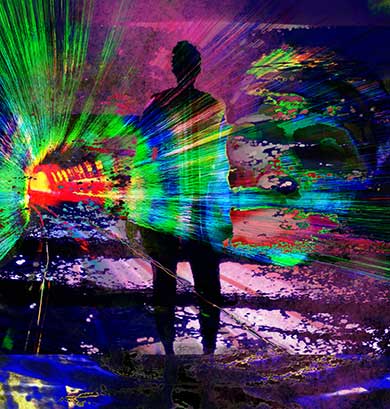 In the adjustment to suffering, or the encumberment by suffering, people can become distorted versions of the self they want to be.  Also, some people suffer natural set-backs that create glitches or disability in reasoning processes that promote more self-centered assessments in the outcomes of desire.  So-called "power" based mechanisms can be created to establish desired outcomes.  These are inferior by nature, and restrict the flow of energy in oneself and in others.
Such modes are fractional and rely on self-division and impose the division of self in others.  This exposition of will in the manufacturing of modalities creates a baseline condition, a line that enforces Lower Consciousness and prevents Higher Consciousness.  There are many mechanism and modality facets at play, which create a huge array of such personas, but a rough approximation will be discussed now: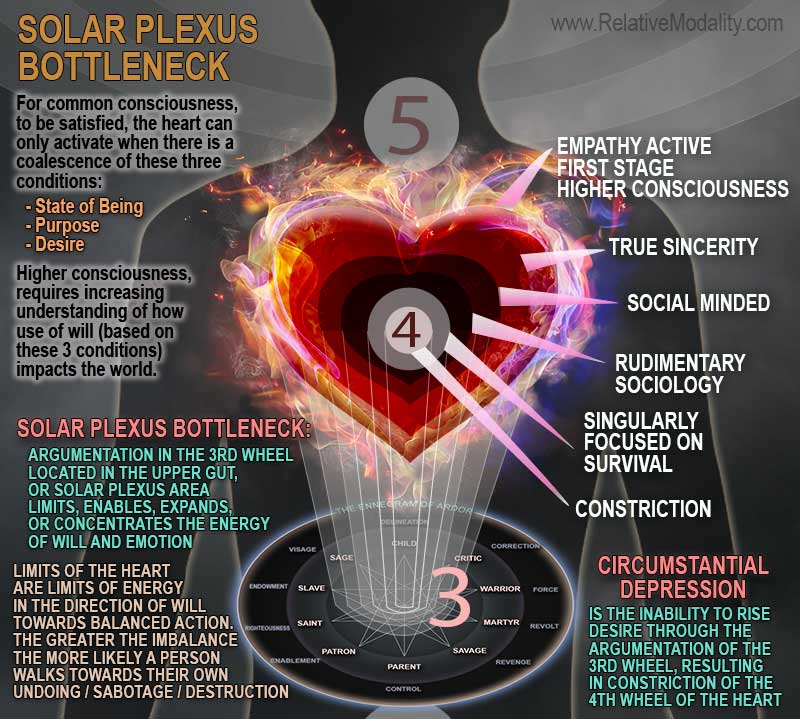 SOLAR PLEXUS BOTTLENECK

The Heart Switch
Lower Engagement VS. Higher Engagement
All modalities affect expanse and entrapment of energy across the nervous system.  There is a bottleneck between the Solar Wheel and the Heart Wheel.  This is an important juncture because it serves as the relay between modes of consciousness.  Universal understanding denotes universal perspective, higher learning, expanse of consciousness, which is not well served or registered by animalistic states of existence.
The Solar Bottleneck acts like a switch. This bottleneck has a constricting nature, and keeps nerve energy locked into various portions of the torso, rather than letting the tensions cease, and for energy to flow freely.  The 3rd Wheel promotes engagement of will in understanding a situation directly - this means argumentation.  Much of consciousness thought acts like a 'committee of the mind' where our thoughts interject as sentences that are of shifting positions of the 3rd Wheel...
(READ MORE - Click the box below)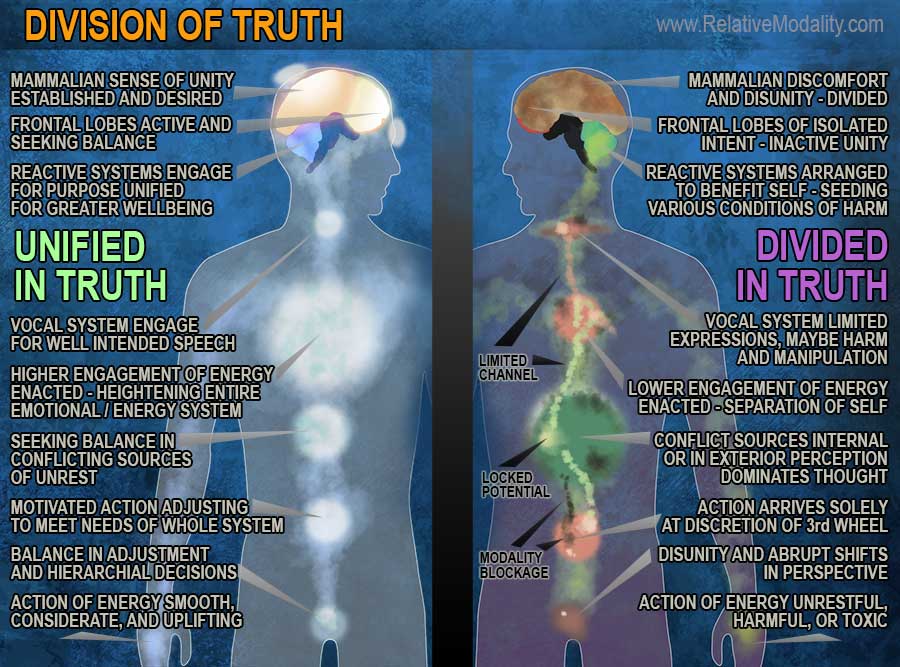 TO DIVIDE THE TRUTH
To Deny Oneself Higher Being

The mind is a network being built to support its perceptions. This can create an estrangement to truth of self – unless the mind actively seeks unity, which leads to forgoing limited perspectives for actualities.
UNITY – Wholeness of Self
The truth is connection, unity, love, and knowledge are the primary drives for higher consciousness. This can require self-reflection, periods of tranquility, moral standings, and the initiative to refine values, which undertow every conditional through and action state.
The conditions of "Unity" are definitive truths. There are mechanisms that reduce the state of Unity, actively lowering into divisive conditions, emotional-logical turmoil and gut-reactivity...
(READ MORE - Click the box below)

ENTANGLEMENT, ENVIRONMENTAL EXPOSURE, CHOICE, SOCIAL STRUCTURES
HOW SOCIOLOGY CHANGES AND ALTERS MODALITY
In the previous chart "Division of Truth" the discussion revolved around central orchestrations of self.  A person can hide the truth from themselves and constantly re-orient themselves into limited channels.  Yet, sometimes, the alteration of self comes from exposure to environments.
Social structures can easily affect a person who seeks true Unity.  Those effects can happen quickly, or set in over long periods of time.  Social structures create patterns of expression, and structures of dominance.  People are limited by environment, sometimes for the worse.  A social structure might encourage more negative modes of behavior and talk.
Furthermore, a social structure might put impingement directly into a person.  Aggressive, hostile, manipulative, negligent, coarse, rude, abrasive, or undermining forms of communication rained down upon a decent person have an affect...
(READ MORE - Click the box below)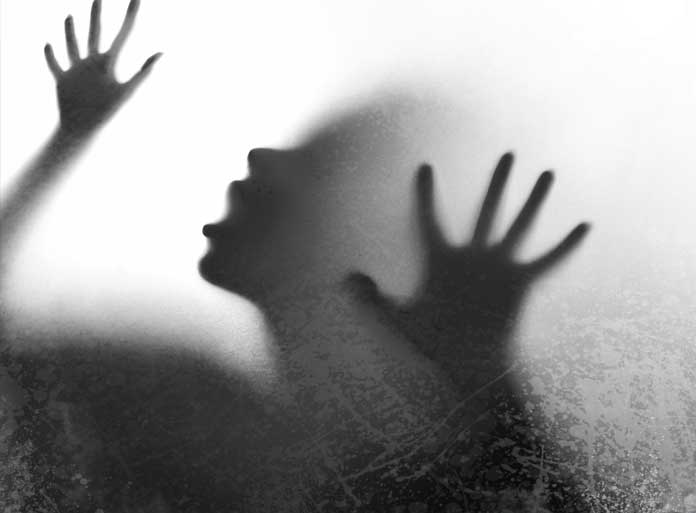 MANIPULATION, DECEIT, TREACHERY
HOW PEOPLE ALTER CURRENTS OF EXPRESSION TO STEAL CONTROL
OVERCOMING OBJECTIONS + CREATING WALLS, THREAT, OR REJECTION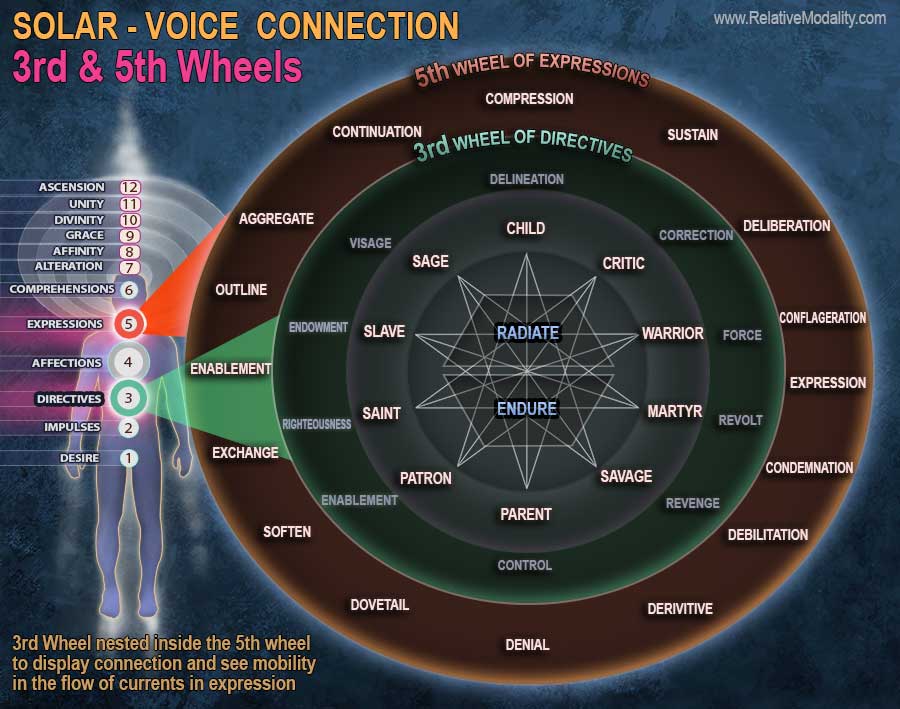 SOLAR - VOICE CONNECTION
Alterations in the flow of expression can lead to small fractions of equanimity dissolving and being taken by one person.  The effects are often sensed, but the absorption of this stigma are accumulative.  Objection barriers are often chiseled away slowly, in order that one person may take dominance over another person.  Simple resistance can often work, but when people who seem to lean towards manipulation keep pressing on, it puts the afflicted in an awkward position.  The afflicted must often shift their modalities to be around this person - those shifts in modalities are being created by the manipulator.  The manipulator wants to experience their fractured idea of totality, and they are actually trying to create modalities in other people that allow that to occur.
The state of a manipulative modality can be further set on altering the course  of another person for their own gain, emotional or otherwise.  The 4th wheel of the heart is setting up goals and agendas, but engaging others requires outward directives through expression...
(READ MORE - Click the box below)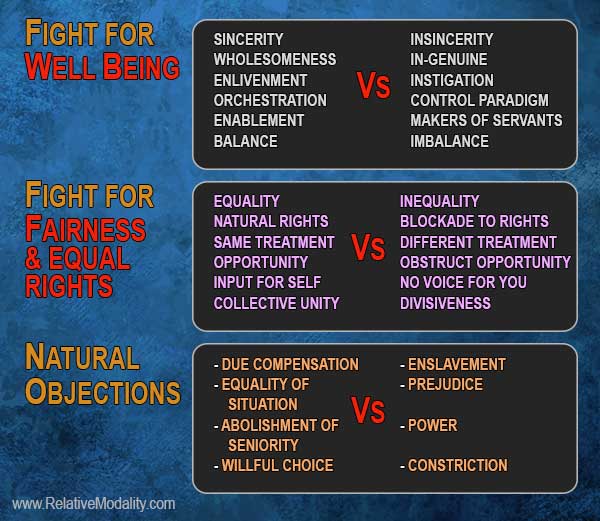 THE FIGHT FOR RIGHTS

Humanity has spent eons fighting for the right to exist.  Further millennia have shown battles of mind, in the evolution of consciousness - as excruciating systems of imbalance have been slowly replaced by systems of greater balance.
This fight is not over, and continues in many layers across the world.  It is important to understand how and why people are manipulated into arrangements that remove much from them, while rewarding others who behave as the manipulators of others.
The fight for equality, well being, and balance will play on inevitably as those who seek balance steadily make ground upon those who thinking, act, and create with imbalance in mind - or with that imbalance lost to their own sense of denial and incapacity to evolve their own consciousness.
For every positive condition, there is a potential for an antagonist desire.  Those who wish to reach Higher Consciousness must weed out their own hidden intentions, and set into motion expressions of greater durability in the test of the ages.  That which is created in unfairness will be dissolved and the results ripped away, when others up-rise, or when awakening condemns one's own behavior, and the wreckage assembled once again.  For every imbalance, there is a price, and the price in self-condemnation is very, very high.
DECOUPLING FROM A CONDITION OF DOMINANCE & TERRITORIALISM
A WORLD APART FROM BEST INTENTIONS
Enduring situations of dominance, extreme or subtle, can lead to exposure, lasting vulnerability, or modality shifts that become ingrained in the human persona.
The worst conditions are to be enslaved physically, emotionally, or circumstantially - subject to the varying tiers of such dominance that leave the afflicted with an overall sense of dishonor, manipulation, meanness, neglect, and mental violence.
We have been given, through ageless creative evolution, the capabilities to disseminate and experience inspiration, creative drive, and a supreme sense of balance in a world that is absolutely capable of total peaceful sustenance.  Yet, through sheer vehemence and greed for power and control, or through negligent consciousness, that suffering and modes of indentured servitude are set up en masse around the globe.
The ways that dominance is established use leverage and manipulations of simple forms.  Willingness to express energy in certain ways, and to risk harm or abandonement are a trademark feature of many who seek dominance.  They utilized leverage in order to mitigate harm or abandonment.  They are willing to wear an altered modality, and to sabotage the modality of others.
This section will get quite wordy to split the formative concepts into simple forms.  The following are modality terms in the negotiation of Dominance in concept and reality...
(READ MORE - Click the box below)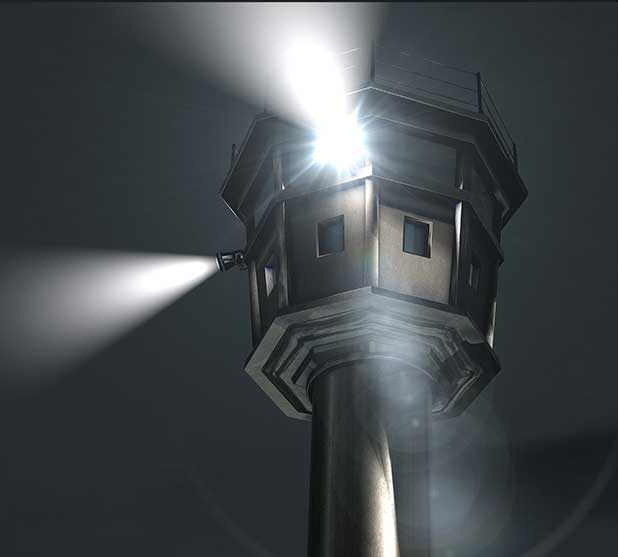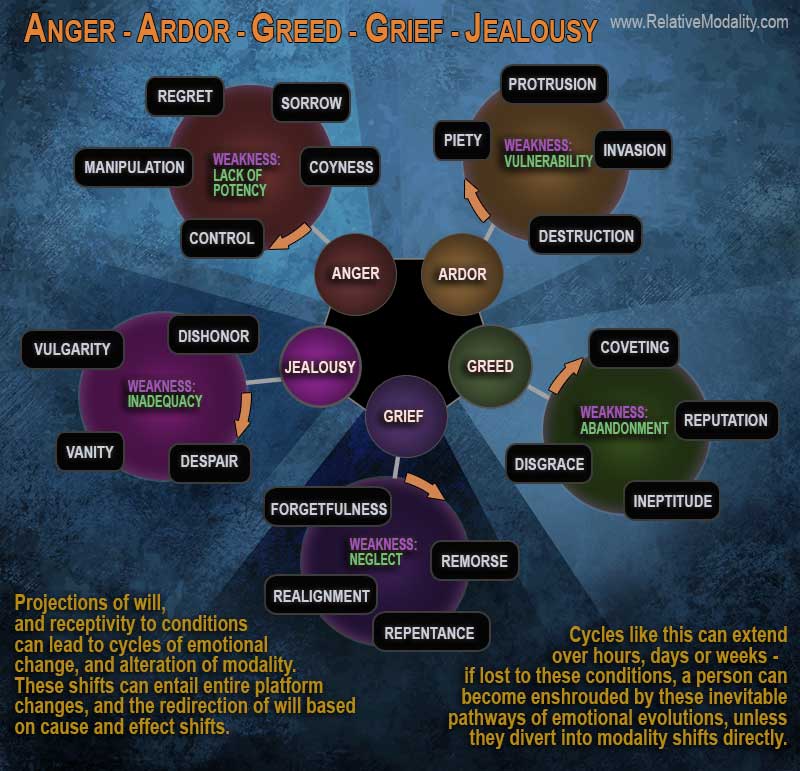 ANGER - ARDOR - GREED - GRIEF - JEALOUSY

There are many reasons for people to wander into these platforms, and to feel the accompanying emotions.  In these discussions about dominance, control dramas, and perception of fairness - every person alive knows about imbalance and disproportionate distributions of status, resource, and so-called "power".
ANGER - Felt inability to survive or impose one's will on another or out in the world
ARDOR - Justification & extension for control of perceived threats or experience. Possibly seeking exploitation of vulnerabilities.
GREED - Want or perceived need to extend resources towards the accumulation of additional resources. Perception of imbalance and creation of 'rightful' justification.
GRIEF - Substantial indictment of self - or by counterance of others in the world.
JEALOUSY - Perceived failures in self-promotion and conceived plots to attain that which is desired.
The platforms and emotions of this chart display two things:
1. The emotional charges that get people to do bad things - the literal guides of energy of will that cause people to try to rise a top others and take from them.
2. The emotional charges that the afflicted might feel, and find themselves lost among after being oppressed, or taken from...
MODES OF RAPID CYCLING, CONSTRICTION, OVER-EXPENDITURE OF RESOURCES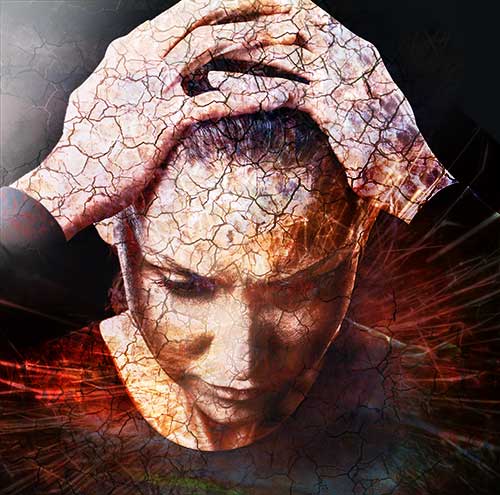 Turmoil, or the risk of turmoil, causes the simple condition of worry, which is the state of logical or emotional unspooling. To spiral into worry tends to upset balanced thinking, and is sometimes an intense, overwhelming condition that can plague a person for long periods of time. Worry is triggered by the mechanism intended to bring resolve to a situation, and leads to an increase of rapid thinking, or extreme static along modality points of the body. The attempt to seek out all possible solutions, and hold those many points of information in the active memory, to seek out possible resolve leads to a constant activation of resources. In a prolonged, intense period, this can be very taxing on the mind and body.
As the human mind is bound linearly, in the wording of thoughts, in states of extreme problem solving, the attempt to align so many cause-and-effect chains leads to a condition of "substantiated mind". This is a way of saying the mind is attempting to give the mind a "solid state", and in ways, defy the linear progression of ordinary though...
(READ MORE - Click the box below)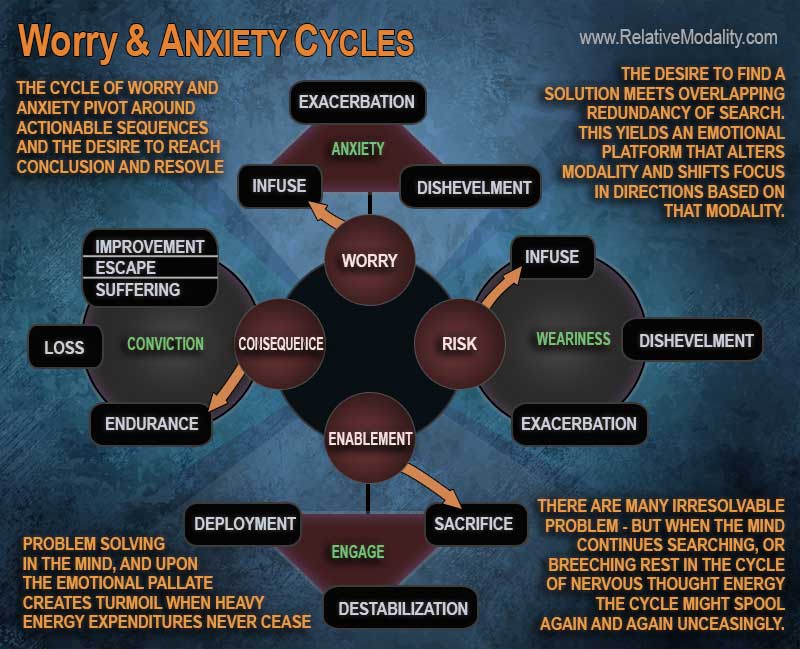 Anxiety can create a rolling-in constriction of the left side of the heart area.
-The body compresses resources to streamline awareness and channel energy -more efficiently from lower wheels of consciousness
- the problem is that this cycle can be locked in more negative/consuming cycles of the 4th Wheel in rotations of emotional platforms, seeking to deal with, or stave off : Anguish, Despair, and Contagion (spreading of problem)
This might not occur directly either – but in impression, because these 3 perceptions lead to heightened problem solving if actuated in pro-active anxiety, rather than passive anxiety.
This system can be 'hijacked or harnessed' for extended over-expenditure of resources in prolonged strain or stress situations, which can be found in workaholism and hurry-sickness – where the mind and body are using the damage control system in a secondary way, to extract more energy for performance...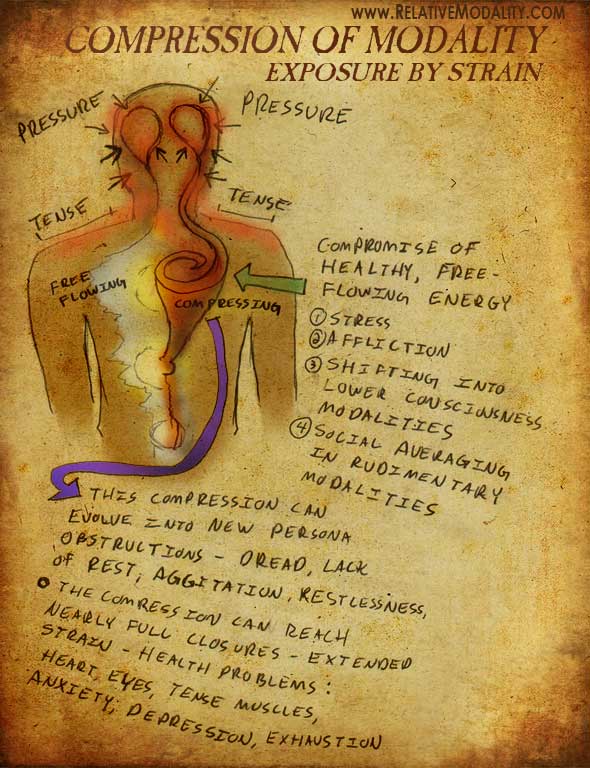 There are many potential causes of compression of modality.  Some are listed on the "Compression of Modality" image.
The overall effects of compression are prolonged extension into a modality that likely defies the best interest of the body experiencing it.
Alterations of modality occur to meet social needs, personal wants, or to extend or contract the expenditure of energy in will and desire.
Very long exposure to social conditions that are imbalanced, toxic, degrading, or vile can have extensive effects on people who seek higher consciousness.  They must always bend and squeeze themselves into modalities that are not native to themselves.
This constriction of modality creates impingement in the nervous system.  This happens because the person must hold themselves in an unnatural 'shape' of modality.  The human mind and body is capable of this, but there is a cost, and that cost can be very high.
Another condition of constriction comes from drives that may build up over time, drives that begin to resemble compulsion or obsession.  In this way, a person might start to cut out modality facets that are good for them, they might forgo rest, or take on endless work all to the detriment of the body and mind...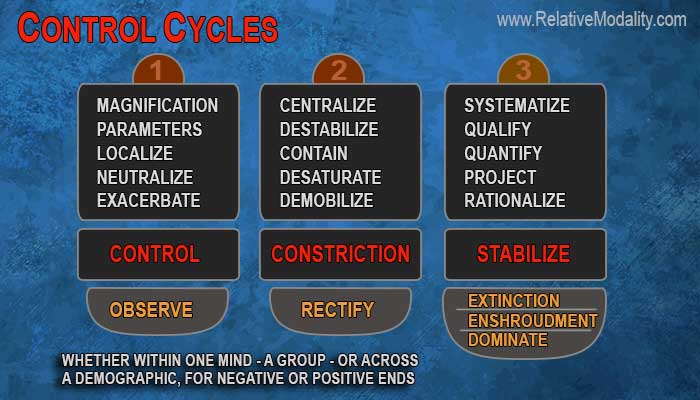 Control is the attempt to prevent one's fears from manifesting, or to derail effects that thwart one's desires.
Control is the attempt at instilling one's own will to override one's own emotional liabilities.
- this can be by self-regulation and modality change to gain self-composure
- this can be the steady act & negotiation of imposing one's will on another...
CONTROLLERS REACH TO DOMINATE:
MINDSET:
- TEMPERANCE
- DEMEANOR
- ATTITUDE
- FLAVOR OF EXPRESSION
- ENVIRONMENTAL PARAMETERS
OPINIONS:
- PREFERRED CHOICES AMONG THE SPECTRUM OF OPTIONS
- ACTIONABLE PREFERENCE
COORDINATION:
- DEMANDS OF DELEGATION
- CHOICE OF ACTION
- SEPARATION OF ACTION
- STATE OF MOTION
DESIRES:
- WILL
- GOALS
- PERCEIVED OUTLETS
- PURPOSE
- PROGENY OF EMOTIVE DRIVE IN CHOICES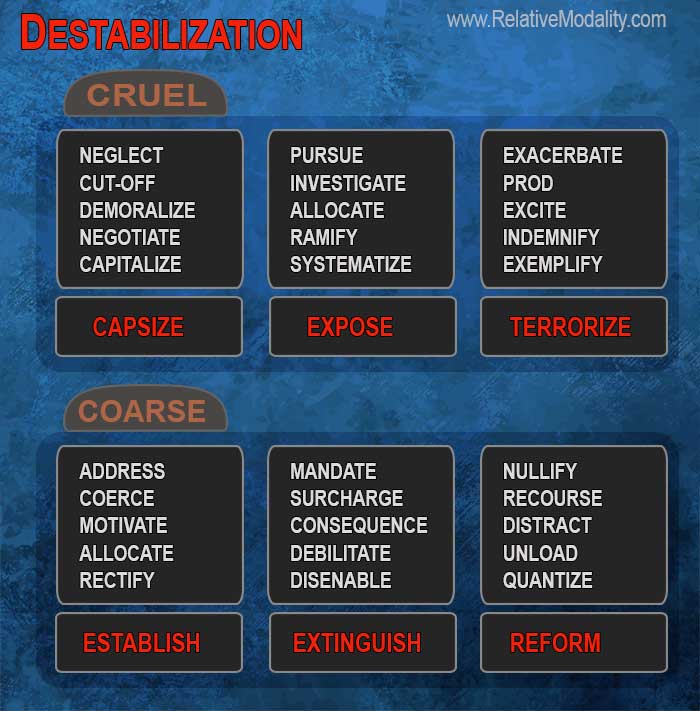 The primary goal in gaining control may vary, but the motive is to gain dominance while creating submission.
The outcome is that the dominant person or regime is allowed to think freely, originally, and creatively by their own nature... while the submissive must think only through an elaborate exterior-based filter based on the changing perceptions of what the controller is attempting to create in the other person.
While the controller may have the idea that such an endeavor is the attempt at a genuine sympatico – in primal terms, it is the attempt to generate a substrate and an independently acting individual that is complimentary or even identical to themselves – the very definition of a Viral Persona.
Yet, in order to have this effect in lasting accordance, such motives are truly coupled with the fear of losing dominance – thus the motive is to create inferior extensions of themselves – thus efficient dominance can only include the installment of inferiority modalities, withholding of some quality or knowledge, or a complex social arrangement that divides the whole body of activity or knowledge...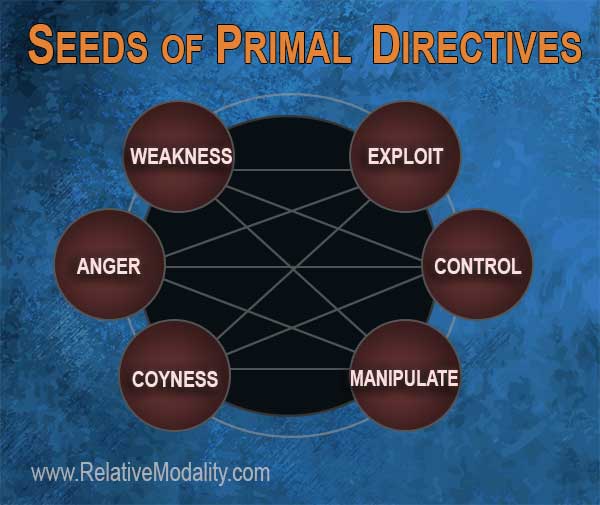 The ability to alter the course of fate - to overcome the obstacles of nature give ample awareness to the systems of control within us.
The same mechanisms used to gather natural sustenance are ported for use in other human ordeals.
The Seeds of Primal Directives chart is a simple chart that exposes the concept of control and manipulation - as these directives are also used to contort people.  It is good to understand how others use these modes against us, and also, for self-reflection in becoming better people.
CONCLUSION FOR THE "ADJUST" SECTION
UNDERSTANDING MOTIVE, DRIVE, CONTORSION, AND MODALITY SHIFTS
IN THE QUEST FOR BALANCE AMONG THE IMBALANCED WORLD
This section is devoted to establishing balance, and exposing the primary drivers that cause imbalance in the world, and also inside the mind.
All people have desires, and many desires extend outside of personal affect.
Some people seek to extend their energy, desires, will over-top others.  Some do this kindly and in fair and balanced ways.  Others deceive themselves, contort their modalities and damage others.
The endlessly changing modality within us allows us to establish peace and balance.  Yet, in the world an in our social structures, there are liabilities and exposure problems.  When some people are allowed to exert control over others, the sensitivity of the matter is pressing.
Our world and social arrangements allow change sometimes, but in many cases, change must be sought out or created personally.  As we all know, there are monsters of people out there.  There are those so deceived by themselves, so incompetent, and so distorted they will not be able to self-reflect long enough or with enough potency to escape their own demise of consciousness.  There are reasons for this, and only some of those reasons are natural.  Suffering of the social type however, is mostly created by people exhibiting will and choice.
It is a challenge of a personal nature to become the greatest people we can be, and that greatness can only be so with kindness, fairness, and balance.
There are deceptive people who will always set up imbalanced equations, systematize abuse, and ruin parts of the universal experience for others.  It is the inherant command of the evolution of consciousnesses that we grow through ourselves – that we see how we initiate problematic tendencies ourselves – that we push through our limitations of self-reflection and gain access to higher understanding.  These charts are useful to witness the effects of others, and also to register within ourselves unseen problematic tendencies that allow us to incidentally affect others in a negative way.
The greatest adjustments in the world, that have the most potency, are those changes we make ourselves, within ourselves, as we move forward in time and affect the world.
These last two section have been heavy and pointed at the problematic tendencies of mind.  We will now move to the stations of Higher Consciousness – the qualities of aspiration and then the ability to see and adjust modalities directly.